Trusted Advisor Testimonials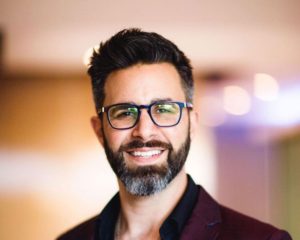 "What I get about you is that from a young age you were bright, you were precocious, you saw things that most people couldn't see, and you weren't afraid to say things that other people were afraid to say. You watched the Beatles being successful, and unlike others who wanted to be The Beatles, you said 'I want to be the person behind the Beatles'. You think differently. No surprise that if we fast forward a little bit, when you thought 'I need a mentor' you sought out Steve Jobs. You aim high when you're doing anything; go big or go home. You sought out Steve Jobs because, even from a young age, you knew you could approach anyone if you come from a place that I've got something of value for you — or I know something about you — this isn't someone trying to take something from them.
Aiming high and being fearless about opening doors is what makes you a super-connector. It's who you've always been. You're a super-connector in two ways — 1) in how you're not afraid to connect with people, but 2) from a young age you saw there was an overlap between content and technology, Hollywood and Silicon Valley, and you operated at that thin sliver between them — literally driving and thriving at the cutting edge of that convergence early on before most could envision them coming together. You have a super-power of connecting ideas and concepts from different worlds."
Read More ▼
– Rich Litvin
Owner, The Litvin Group
Coach to World Class Top Performers
"Probably the most beneficial thing in working with Kelli has been that I've had someone I trust/respect who I share similar belief system with to touch bases with as a high-level thinker/conspirer and 'outside eye'. I have also appreciated and benefited from the accountability structure she has created for me. I'm noticing time more (valuing it more, enjoying it more, worrying about it less, but also being cognizant of using it well) as a result. I'm acutely aware of the progress that I've made in personal and professional growth as a result of our work, and am grateful for the partnerships and connections I've made courtesy of Kelli's intros that are (and will be) valuable to me in future ventures and endeavors."
– Jamie Hultgren
Creative Director/Buyer/Fashion Designer, Enze Apparel
"I engaged Kelli during a pivotal time during my career, and I cannot imagine having navigated so many storms without her unwavering support and guidance. She helped me refind my conviction and "use my power" as I moved from a large corporate role to a CEO role. During each of our sessions she would offer great ideas to stay ahead of the curve and in control of my story and messaging. She pushed me further and higher than anyone I've ever worked with before. For anyone at a crossroads or in need of a career boost, Kelli is unparalleled. I value her real world perspective and because she comes from direct experience her advice is relevant, actionable and effective. I wouldn't be where I am now without Kelli's support!"
– Shauna McIntyre
CEO, Sense Photonics
"I have known Kelli for well over a decade. I consider her to be one of our generation's greatest and most innovative technology leaders. Kelli is a forward thinker who keeps us all motivated with her positive and ethical values. I'm proud to have maintained a healthy long term business relationship with her, and am honored to call her an advisor and a friend."
– Eren Niazi
CEO, Open Source Storage
"Kelli's guidance has showed me creative and inspired possibilities I'd never have considered to take my brand/presence to the national stage as a political analyst and commentator. As importantly, she's taught me to believe in myself, how to get out of my own way, and to think and act on a grander scale. She's opened doors to opportunities and influencers for me that I never dreamed I could engage with & I'm truly grateful."
– Joyce Stoer Cordi
Radio Talk Show Host & Founder, Reimagine America
"Kelli is a true visionary. Her insights and advice provided game-changing direction for me and my organization during a key transition period. She is a true connector of people across nearly every industry and does an incredible job of opening up possibilities. She is a joy to work with!"
– Dr Shoshana Ungerleider
MD & Founder, End Well
"Kelli is an incredible strategic partner for anyone who wants to embark on a new career &/or life path — or significantly redesign their existing one. She believes in your talents but she also can see blind spots or hidden mis-perceptions that may be holding you back. Kelli helped me to gain confidence in myself and together we created a strategy that could bring feasible results as I move from being a consultant to a coach. Her approach with me was to tap into my growth mindset and to set up a plan to come up with the results by supporting key milestones and celebrating achievements. Kelli is a fun and enjoyable person to work with. She is truly a trusted partner for someone who wants to reach their next level of personal and professional mastery."
– Elena Vassilieva
Scrum Expert & Agile Coach
"Kelli, you're a great business coach, and anybody who's even remotely related to your field of entertainment or technology, or music particularly, they need to call you, no doubt about it."
– Libby Gill
Branding Expert and CEO of Libby Gill & Co.
"I've had the distinct pleasure of being mentored and coached by Kelli. During our time working together I found Kelli to be very professional, insightful, tough and extremely helpful. She helped me in multiple areas of my life and we systematically worked on improving each of these areas with education, instruction and goal management. I can say with 100% confidence that I would not have achieved the level of success that I did without Kelli's help. The change in both my professional and personal life has been nothing short of dramatic."
Bob S.
San Jose, CA
"Kelli's wholehearted support and belief in me absolutely made the difference in my success as she coached me to a level of vibrancy and authenticity in my life that I didn't know were possible! As Kelli held me accountable, my self-responsibility escalated to that of outstanding. Kelli's encouragement motivated and challenged me to really stretch my goals and continue to take on more each week. Her compassion created a safe area for me to courageously face my fears and vulnerabilities, guiding me to a place of amazing empowerment. Thanks to Kelli's excellent coaching every area of my life is now fun, fulfilling, inspired and purposeful."
– Linda K.
La Jolla, CA
"Kelli is a very clear, honest, and direct life coach. Her intuitive presence empowered me to reach deep inside myself to find my own answers. Kelli's laser-focused attention led me to deeper clarity around my authentic self. Throughout our journey together, I experienced her support as unwavering and profoundly wise. I'll always be grateful for Kelli in my life."

– Michele L.
Tiburon, CA
"Kelli's guidance and support was instrumental in getting me on track for the life I've been dreaming of. In the months we worked together, I bought a house, lost weight, increased communication in my relationships and got clarity around my goals and the subsequent requirements to achieve them."
– Sarah C.
Mountain View, CA
"Kelli is committed to excellence and success and shows this in her coaching through rigorous and unflinching honesty that goes bone deep. I found her to be extremely supportive and I accomplished an incredible amount in the time that I was coached by her."
– Clare B.
Vancouver, BC